While searching for Korchnoi images on my main blog -- e.g.
Korchnoi's Defection
and
Composite Korchnoi
-- I came across a couple of attractive postcards.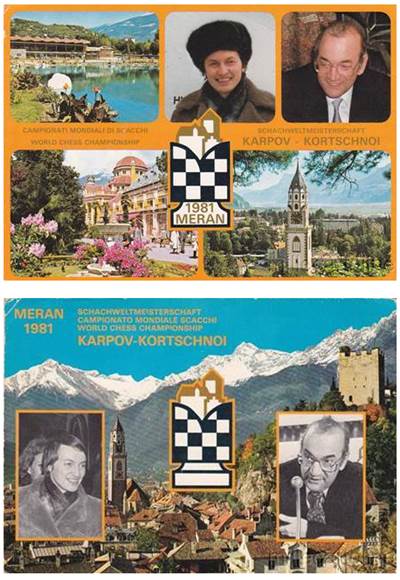 The event was the 1981 Karpov - Korchnoi Title Match; Merano, X-XI, 1981. Merano/Meran has multiple associations with chess; from Wikipedia's entry on Merano:-
Merano or Meran is a town and comune in South Tyrol, northern Italy. Generally best known for its spa resorts, it is located within a basin, surrounded by mountains standing up to 3,335 metres (10,942 feet) above sea level, at the entrance to the Passeier Valley and the Vinschgau. [...]

A chess opening, the Meran Variation of the Semi-Slav Defense, is named after the town, from its successful use by Akiba Rubinstein against Ernst Grünfeld during a tournament held in the town in 1924. In 1981, the World Chess Championship match between Anatoly Karpov and Victor Korchnoi was held in Meran. The first act of the musical Chess also has a world chess championship match set in Meran, and features a song entitled "Merano", which includes the line, "rosy-cheeked Merano, flourishing to a fault".
I have spotted many examples of the upper card on eBay, but the lower card is seen less frequently.