Received from newsletter@worldchess.com...
Subject: Would you like to see your logo on the player's jacket? Now you can!
From: World Chess Team
Sent: August 14, 2017

WORLD CHESS : LAST CHANCE TO JOIN GRAND PRIX SERIES

If you ever wanted to see your company's logo on the top chess player's jacket, now you can make it happen! (or at least learn how much it might cost)
...You got my attention. What's the deal?...
World Chess, the organizer of the World Chess Championship cycle events, has launched an online store where one can buy a sponsorship contract with the world's strongest chess players.

Probably for the first time in sports, a top-level sports sponsorship contract can be purchased online with a credit card. This is a step by organizers of the World Chess Championship to bring chess into the marketing mix of companies worldwide.

Chess had become increasingly popular in the last few years, helped by wider adoption of smartphones and rise of new young chess stars, including current World Chess Champion, 26-year old Magnus Carlsen from Norway (who is also a fashion model). Recent Championship Match that was held at the Fulton Market in New York City, reached an audience of over 1bln people and was attended by movie stars and tech moguls.
...One billion people? Movie stars and tech moguls? Almost sounds too good to be true...
A sponsorship contract for the Grand Prix Series, a qualifier for the 2018 World Chess Championship, will allow companies to become 'national partners' of such chess stars as Maxime Vachier-Lagrave of France or Peter Svidler of Russia, to position the company logo on players' uniform and get exposure to over 600 million people who play and follow chess globally.

Ilya Merenzon, World Chess CEO says: "Chess players are a phenomenal marketing asset. Considered some of the smartest people on the planet, they are admired by nations. We are bringing this asset to companies who perhaps never thought of adding chess players to their marketing mix.

Championship level sports marketing has very high entrance barrier and we are changing this by introducing a store where companies can choose a player and buy a sponsorship contract in one click", -- adds Merenzon.

For $20,000, companies can buy an individual sponsorship contract for a Grand Prix Tournament which will take place in November of 2017 in Palma de Majorca, Spain. The event is a qualifier for the World Chess Championship and will feature chess superstars, such as Hikaru Nakamura, the US Champion, Maxime Vachier-Lagrave, recent winner of the prestigious Sinqfuild Cup in St. Lois, Peter Svidler, 4-time Russian Champion, Levon Aronian or Armenia and more. There can be only one sponsorship contract per player and the arrangement is regulated by FIDE, chess governing body and International Olympic Committee.

Online store is available at agonlimited.com/store.
The embedded links in the email message went to Store — AGON (agonlimited.com), with pictures of the Grand Prix participants. Here's an example showing the first six players.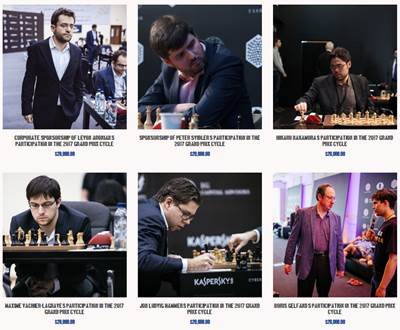 The link for GM Aronian in the upper left corner went to Corporate Sponsorship of Levon Aronian's participation in the 2017 Grand Prix cycle:-
Levon Aronian: For many years in the top-3 in the world and consistently believed to be the biggest threat to the World Chess Champion, Levon Aronian is hugely famous in Armenia, his home country, and well-known around the World. Winner of several World Chess Championship titles (Rapid, Blitz) and numerous prestigious tournaments, Aronian is one of the top world's chess players and has a cult following around the world.

Major benefits include: Sponsor's logo sized 15*3 cm on the left side of player's jacket is always in sight and in the frame of official online broadcast and official photography supplied to accredited media.
Will Agon/WorldChess manage to attract this type of sponsorship? For a previous Agon success (and a history of corporate chess sponsorship), see World chess secures sponsorship of Russian anti-malware firm Kaspersky Lab (telegraph.co.uk; February 2017).