Continuing with my previous post,
2017 World Cup Results
, I added links for the event to my four pages for the
Index of Players
covering all World Chess Championship events. According to my calculations, of the 128 players who participated in the latest tournament, 43 were taking part in a major World Championship event for the first time.
While documenting tiebreaks on my main blog for the previous World Cup, 2015 World Cup Tiebreak (October 2015), I counted the number of games played at each stage of the competition. Here is the same overview for the 2017 event.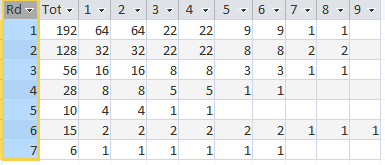 The 'Tot' column shows the total number of games played in each round. The following columns show the number of games played for each stage of the round, tiebreaks starting at game three of each round (game five for the last round).
***
I have to solve a technical problem before adding the PGN file for the 2017 World Cup. I'll tackle that as soon as I can.