Now that the
2013 Candidates Event
, played in London, is behind us, we can look forward to the Anand - Carlsen title match in November. The FIDE Calendar 2013 currently says '6-Nov-2013 : 26-Nov-2013', but this is undoubtedly subject to change.
The Rules & Regulations for the match mention both Anand and Carlsen, so they were published after the end of the Candidates tournament. We are looking at a 12 game match with tiebreak. According to a post I wrote three years ago, Intermediate Scores as a Match Predictor, 12 is a sufficient number of games. What happens if either Anand or Carlsen can't play?
3.6.2 If a player refuses to participate in the World Championship Match, he will be replaced as follows: The runner up finalist of FWCM 2012 GM Boris Gelfand replaces the World champion Vishy Anand and the runner up of the Candidates Tournament 2013 Vladimir Kramnik replaces the challenger Magnus Carlsen. In case any or both players refuse to participate when invited, or for any further replacements needed, the rating list of January 2013 will be used to determine their replacements.
The Chessgames.com links I created for the Candidates event, 2013 London CT Player Records, proved particularly useful. Here's the same for the title match: Classical games: Viswanathan Anand beat Magnus Carlsen 6 to 2, with 19 draws. Those 27 games are from a total of 58 played between the two opponents. How does that compare to my own PGN file on Carlsen's Tournament, Match, and Exhibition Record? I downloaded the file, extracted the Anand - Carlsen games, and also came up with 58. Here are some SCID stats for the first moves used.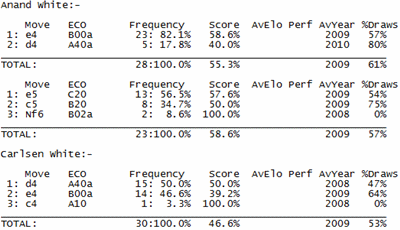 Judging by comments in various places, Carlsen is the favorite going into the match. He was also the favorite going into the Candidates tournament, but emerged the victor thanks to a controversial tiebreak system. Given that he has little match experience, I expect the upcoming title match will be close.