At the end of last week's post,
Madrid Candidates - First Week
(June 2022), I noted,
Next week's 'Second Week' post should have the results through the ninth round. If Nepomniachtchi and Caruana continue to do well, one of them could become World Champion Carlsen's challenger for the second time.
Both of them continued to do well, but the event is still far from over. The following chart shows the standings after the seventh round, mid-point of the tournament. The next two rounds saw two key games featuring two of these top players against a key rival.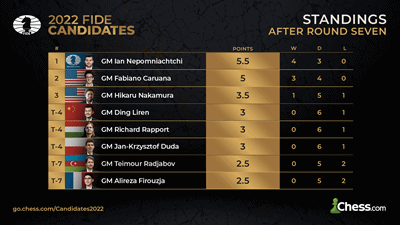 Nepomniachtchi, Caruana Win Again To Extend Lead On Field
(chess.com; after rd.7)
In the eighth round, Nepomniachtchi drew while Nakamura beat his compatriot Caruana. That gave the Russian a full point lead over the higher placed of the two Americans, who were in second and third.
In the ninth round, Nepomniachtchi drew with Black against Caruana, while Nakamura lost to GM Radjabov. That let the Russian retain his one point lead over Caruana, who was a point ahead of Nakamura and GM Ding Liren, both with an even score. The Chinese player won his first game of the tournament, beating GM Duda. Nepomniachtchi has White against Nakamura in round 12.
With five rounds left to play it seems even more unlikely that anyone except Nepomniachtchi or Caruana will win the event. Since both players won a previous Candidates tournament, we can conclude that experience counts in this toughest of tournaments.