Last week's post
Yekaterinburg Candidates - Kickoff
, coincided with the second round of the tournament, so we have a full week of play to review for this post. In the equivalent post from two years ago,
Berlin Candidates - First Week
(March 2018), about the
2018 Berlin Candidates Tournament
, I created a chart showing the round-by-round progress of the three previous Candidates tournaments: 2013 London, 2014 Khanty-Mansiysk, and 2016 Moscow. That chart is again shown here.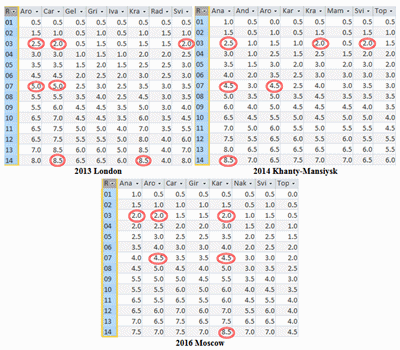 I also noted,
In all three tournaments, the eventual winner was from the group of players who had a plus score after round 3. The winner was also one of the leaders after the first half of the tournament.
Did the same pattern hold for 2018 Berlin? Indeed it did. After the third round, GMs Kramnik, Caruana, and Mamedyarov all had plus scores. Caruana, alone in the lead after the seventh round, went on to win the tournament. Strange perhaps, but true.
As for the 2020 Yekaterinburg tournament, GMs Nepomniachtchi, Vachier-Lagrave, and Wang Hao had identical plus scores (+1-0=2) after the third round. The seventh round, being played today, will give us another prediction about the eventual winner.