After catching up with current events in the previous post,
Upcoming World Championship Events
(October 2021), there remains one more action from
2021 Women's World Cup Crosstables
(September 2021):-
For those in-between weeks with nothing special to report, I'll document the zonals for the current cycle, C30. Here are a few corresponding references for the previous cycle, C29. [...]
Here is the complete list of corresponding references:-
The qualifiers for the recent 2021 World Cup, Sochi (m-w.com) were published in Players lists and full pairings of FIDE World Cups published (fide.com; June 2021). The following chart, similar to the one developed for 'C29 Regulations', shows the various qualification paths for the World Cup plus the number of players qualifying via that path.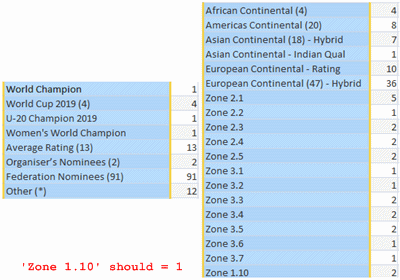 The numbers in parentheses, e.g. 'World Cup 2019 (4)', show the number of players authorized for that path by the regulations. That allows a quick calculation to check the number authorized by more complicated paths. For example, 'Americas Continental (20)' equals 8 players from that tournament plus 12 players from the zonals 2.x.
I noticed only one discrepancy, 'European Continental (47)', where the actual count in the chart totals to 48. This turned out to be an error on my part; 'Zone 1.10' produced only one qualifier, not two as shown in the original chart.
That error was caused by my erroneous manipulation of the data for players marked 'withdrew'. There were 17 such players, out of the 214 players listed as qualified.
It's worth noting that all of the players qualified by 'African Continental (4)' were from 'EGY' (Egypt). There were no African zonals 4.x in the current cycle. In the line marked 'Other (*)', the asterisk stands for:-
FIDE President's wild cards [4], replacements of missing federation's nominees [6], and Zonal 3.5 [2].
The four players nominated by the FIDE President were listed in the FIDE announcement from June 2021. In addition to the 17 players marked 'withdrew', six federations were missing a name under 'Federation Nominees (91)'.
The 19 events listed in the right column will be the subject of future posts. The covid coronvirus created havoc with qualifying events for the cycle C30. I hope I don't fall into any more traps along the way.