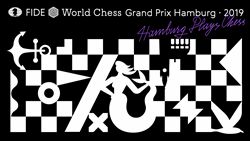 I added the crosstable and PGN for the third event in the
2019 Grand Prix
. The tournament's logo is shown to the left.
For the blog post on the second event, see 2019 Grand Prix, Riga (July 2019). According to a FIDE bulletin, Alexander Grischuk wins FIDE Grand Prix in Hamburg (fide.com),
With this win, Grischuk virtually booked his ticket for the Candidates tournament which will take place in Yekaterinburg, Russia from March 15 to April 5, 2020.
GM Grischuk twice reached the final round, and in his least successful Grand Prix event reached the semifinal round. According to my page, Index of Players (A-G), next year's tournament will be his fifth participation in the prestigious event.