A few years ago, in a post on my main blog titled
World Championship Stalwarts
(October 2015), I developed a few statistics:-
[Re] the 'World Championship : Index of players'. I started to ask myself a few questions -- How many events does the index of players include? How many players? Which players participated in the most events? -- and so on.
Why not do the same for the World Chess Championship : Index of Women Players? I used that page to build a database, then developed the same sort of chart shown on the 'Stalwarts' post.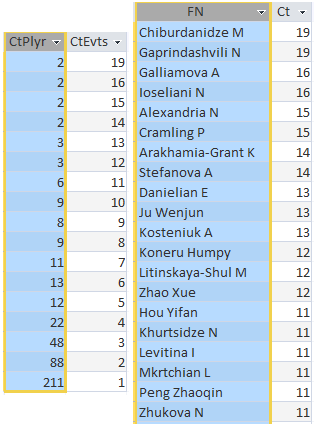 I counted 451 different women players who participated in 73 events. The events start with the 1949-50 Title Tournament, so none of the pre-WWII events won by Vera Menchik are included in the counts.
The table on the left shows how many players participated in a specific number of events. The table on the right gives the names of the players with the most events. For example, two players participated in 19 events, and 211 players participated in a single event. The two players topping the list, Maia Chiburdanidze and Nona Gaprindashvili, were both from the country of Georgia.
The original 'Stalwarts' post mentioned a number of other statistical curiosities. If there is no forthcoming news about the current cycle of the World Championship -- not that I'm expecting any -- I'll apply the same analysis to the 'Index of Women Players'.