The first four rounds of the
2022 Candidates Tournament
(m-w.com) have finished, making this a good time for a follow-up to last week's post
Madrid Candidates - Kickoff
(June 2022). For the 'First Week' posts of the two previous candidates tournaments, see:-
For both posts, I used the following chart showing the round-by-round progress of the participants in the 2013, 2014, and 2016 candidates tournaments.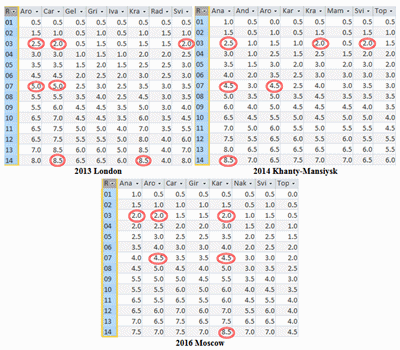 The red ovals identify the leaders after the 3rd, 7th (midway), and 14th (final) rounds. In all cases, the ultimate winner was among the leaders after the other, intermediate rounds. The only real exception to this pattern was GM Kramnik in 2013, who was trailing after the 3rd and 7th rounds, then had a super spurt during the second half to finish in a tie with GM Carlsen.
I created a new chart for the 2018 and 2020 tournaments, shown below. It highlights the leaders after the 4th round, because that's where the 2022 tournament is now. The red line on the 2020 tournament is a reminder that the event was effectively split in two pieces because of the covid-19 pandemic.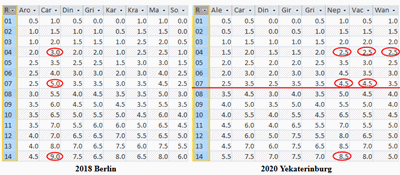 In the 2022 tournament, GM Nepomniachtchi is leading with 3.0 points after four rounds, followed by GM Caruana with 2.5 points. The other six players are all bunched within a half point of each other.
Next week's 'Second Week' post should have the results through the ninth round. If Nepomniachtchi and Caruana continue to do well, one of them could become World Champion Carlsen's challenger for the second time.