The
2019 World Cup
is currently taking place in Khanty-Mansiysk, Russia. While I'm waiting for it to finish is a good time to start documenting the qualifying events. I'll follow the same procedure as in the previous cycle, starting with:-
The list of qualifiers for the current cycle was published over the summer in World Cup 2019 Qualifiers and Contract (fide.com). Using the details in the related PDF document, I developed the chart shown below. The left side of the chart shows qualifying paths which were not taken from a standalone tournament, plus a count of players who qualified via each path. The right side shows a count of the players who qualified via direct competition, either a continental championship or a zonal.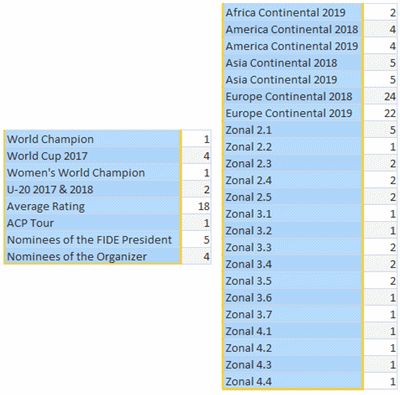 My procedure for the previous cycle continued with the following steps:-
In hindsight, I can't believe it took so many steps to document the zonals++, but so it seems.