For anyone who understands the deep connection between chess and Russia, the first notification was a bombshell:-
2019-11-25: WADA Compliance Review Committee recommends series of strong consequences for RUSADA non-compliance (wada-ama.org) • 'Having considered a report from the World Anti-Doping Agency's (WADA's) Intelligence and Investigations Department (I&I) and independent forensic experts, WADA's independent Compliance Review Committee (CRC) has recommended to WADA's Executive Committee (ExCo) that the Russian Anti-Doping Agency (RUSADA) be declared non-compliant with the World Anti-Doping Code (Code), as announced by WADA on 22 November 2019.'
FIDE, a signatory to WADA's 'International Standard for Code Compliance', reacted within a few days:-
2019-11-28: Official statement on WADA recommendations (fide.com; unsigned) • 'FIDE is an international sports organization, officially recognized by the IOC, and complies with all internationally recognized rules and regulations.'
This was immediately followed by a call for a special Assembly and Congress:-
2019-11-29: General Assembly and FIDE Congress: dates & venue (fide.com) • 'The Presidential Board made a final decision about the place and dates of an Extraordinary General Assembly and FIDE Congress. In response to a number of requests from delegates, and taking into account the opinion of the Chairman of the Constitutional Commission, Mr. Rivello, the Board scheduled the Assembly on February 26-29 in the United Arab Emirates. The final agenda will be published no later than one month before the date of the meeting, according to the Statutes.'
The formal confirmation of WADA's recommendations came a week and a half later:-
2019-12-09: WADA Executive Committee unanimously endorses four-year period of non-compliance for the Russian Anti-Doping Agency (wada-ama.org)
That endorsement included four paragraphs relevant to FIDE. They cover FIDE management, FIDE events, and top players:-
'Russian Government officials/representatives may not be appointed to sit and may not sit as members of the boards or committees or any other bodies of any Code Signatory (or its members) or association of Signatories.'
'Russia may not host in the Four-Year Period or bid for or be granted in the Four-Year Period, the right to host (whether during or after the Four-Year Period) any editions of the Major Events.'
'Where the right to host a Major Event in the Four-Year Period has already been awarded to Russia, the Signatory must withdraw that right and re-assign the event to another country, unless it is legally or practically impossible to do so.'
'Russian athletes and their support personnel may only participate in Major Events staged in the Four-Year Period where they are able to demonstrate that they are not implicated in any way by the non-compliance with conditions [...]'
I put together the following chart showing events on the FIDE calendar scheduled in Russia for 2020, plus an overview of Russia's position as a leading chess nation (1st) and the top Russian players.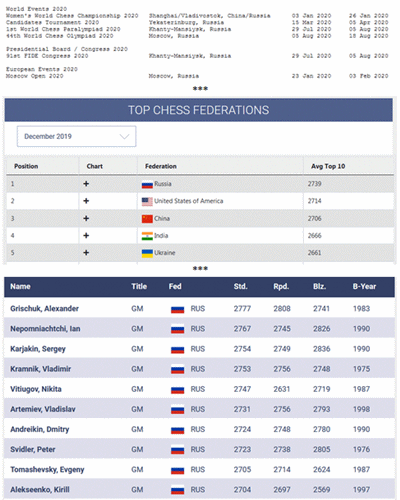 (Source: Fide.com)
There are a number of points to watch: FIDE management (esp. FIDE President Arkady Dvorkovich, who was Deputy Prime Minister of Russia from 2012 to 2018), scheduled FIDE events, future FIDE events, and top Russian players. All of this taken together will become the follow-up to last year's 2018 FIDE Congress : Whither the World Championship? (January 2019). If we are going to follow this evolving story, current FIDE management will need to improve its communication skills and work on its lack of transparency.
***
Later: After I wrote the post, I discovered that there was no apparent connection between the WADA issue and the 'call for a special Assembly and Congress'. For more about the latter, see Spectating the 90th FIDE Congress? (February 2020).