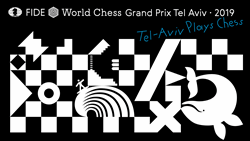 I added the crosstable and PGN for the fourth (and last) event in the 2019 Grand Prix. Originally scheduled for Tel Aviv, as shown in the banner to the left, the tournament was eventually played in Jerusalem.
For my post on the previous event, see 2019 Grand Prix, Hamburg (November 2019). For my next post, I'll add the table of final results that determined which two players qualified for the Candidates tournament, as calculated by FIDE. I'll also add appropriate entries for the players on my cross reference, World Chess Championship : Index of Players.
I would also like to develop a comparative overview of the total scores for all players across all four events, as I did for the 2017-18 Grand Prix (December 2017). The mini-match, knockout format of the 2019 series requires a different approach than I used for the 2017-18 series, but it's not clear what approach is best.