Regarding the February announcement,
FIDE resumes the Candidates Tournament
(fide.com), shouldn't that say, 'FIDE plans to resume...'? The announcement started,
The Candidates Tournament, the biennial 8-player event that decides who will be the Challenger for the World Chess Championship title, will resume on the 19th of April in Yekaterinburg, Russia.
It also gave an overview of the tournament standing, reproduced below, when it was interrupted after the first half had been completed.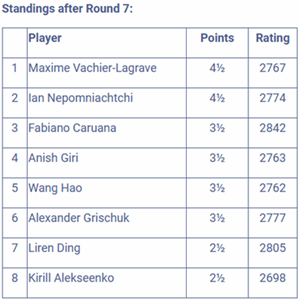 I added a link for the announcement to my page, 2020 Candidates Tournament; Yekaterinburg (Russia), III-IV, 2020. There are now 19 Fide.com links on that page, which might be some kind of a record. For the recent announcement about the subsequent title match, see Expo 2020 Dubai (in 2021).