After identifying qualification events in
C30 Zonals
(January 2022), I added the required data to the index of
World Chess Championship Zonals
. In a similar exercise for the previous cycle,
C29 Zonals Indexed
(November 2019), I noted, 'The 28 new events make a total of 469 events recorded on the index.' The same calculation this time yields:-
The 18 new events make a total of 487 events recorded on the index.
The drop in the number of new events from 28 to 18 is, of course, a result of the covid pandemic which has swept the world during the last two years. The following chart shows the evolution in the number of events during the last five cycles, where each cycle took two years to complete.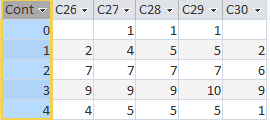 C26: 2012-13, ... C30: 2020-21
The left column is the continent number -- '1' (= Europe), etc. -- where I use '0' for events not tied to a specific continent. In this chart, the count for continent '0' means the ACP Tour. It was undoubtedly suspended because of the pandemic, although I could find nothing official on the ACP's site Chessprofessionals.org.
All continents showed a drop in the number of events from C29 to C30. The drop for '2' (= Americas) was likely even more severe than the numbers show, because the C30 count includes three zones for which I could find almost no info. I'll look more closely into those for a future post.
At one point last year I wasn't sure if the cycle would go forward. I documented this in a pair of posts:-
That second post mentions Tornelo, which I documented in another post on my main blog:-
Tornelo was used in eight of the 15 events that I know took place (18 - 3). Three more events were played using other online platforms, meaning that just four events were played in a traditional face-to-face venue.