I updated my WCC site with the latest info related to the two final World Championship qualifying events:-
The Grand Prix starts in a few days and the Candidates Tournament, announced in December 2021, is a new page. The Grand Prix will qualify two players into the Candidates, which will decide the challenger for the next title match.
When I say, 'the Grand Prix starts in a few days', I'm not completely certain. On Monday, 31 January, FIDE annnounced, 'FIDE Grand Prix Series 2022 starts in Berlin on February 3', i.e. Thursday this week. A day later, on Tuesday, 1 February, the world federation announced, 'FIDE Grand Prix 2022: Ding and Andreikin replaced by Esipenko and Wojtaszek.' (See my 'Grand Prix' page for links to both annnouncements.)
Both Ding Liren and Dmitry Andreikin were on the list of players starting this week. Does FIDE's left hand not know what the right hand is doing? Did the federation not contact the players one last time before making the announcement?
Both of this week's annnouncements used the comic-style illustration shown below. On top of reminding me about those weird logos created for the 2018 World Championship, London (December 2017), I asked myself, 'What are those structures on the right side of the drawing?' The only explanation I could think of, besides Niagara Falls, was that they represent the Berlin Wall. That's OK if we're talking about chess; it's not OK if we're talking about Berlin as a 20th century political symbol.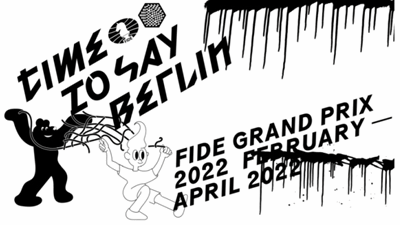 There was one more surprise on the Monday announcement. Belgrade was listed as the venue for the second of the three Grand Prix events, where previously Berlin had been the announced venue for all three.
For the Candidates Tournament, there was also a surprise announcement: 'Candidates play-off introduced':-
The play-off will consist of rapid games. Details like the exact time control to be used and the total number of players to take part in the tie-break, will be decided in January after further consultation with players.
This would have been an issue for the 2013 Candidates Tournament, London (m-w.com), where Carlsen tied with Kramnik for first. As I documented on that page,
Carlsen was declared the winner based on 'b) The total number of wins'
Given Carlsen's expressed desire to cherry-pick his challenger -- see 2021 Carlsen - Nepomniachtchi, Wrapup (December 2021) for details -- a play-off match would allow the challengers to nudge Carlsen out of the title match. Has everyone thought these things through?