In last week's post,
2022 Grand Prix Regulations (cont.)
(February 2022), I wrote,
I added more detailed explanation to my page and will continue with the crosstables as soon as I can.
'My page' is 2022 Grand Prix, Berlin/Belgrade. It now has both crosstables and PGN for the first leg, which took place in in Berlin.
The second leg, in Belgrade, started this week. With war raging in nearby Ukraine, the organizers announced a new logo.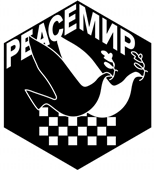 World Chess Changes Logo to Anti-War Version
(worldchess.com)
I'll add the Belgrade leg to my page after the results are known.