In the previous post,
2022 Grand Prix, 3rd Leg
(April 2022), I left myself with three actions: 'Still to do on my page'. First I added the PGN and total Grand Prix points to
2022 Grand Prix; Berlin / Belgrade
(m-w.com).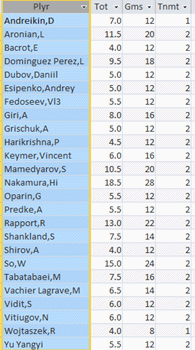 Then I created the chart shown on the left. It lists the 25 players who participated in the three legs of the 2022 Grand Prix, their total score across the events in which they played ('Tot'), and the number of games played in the events ('Gms').
The last column shows the number of events in which each player participated ('Tnmt'). Two players participated in a single event and were substituted in their second event. I should say more about the substitutions, but I'll save that for another time.
Not done: Add the 25 players to the Index of Players. I had hoped to do that for this post, but I ran out of time. I'll schedule one last post for this long and complicated event.