This morning I was surprised to learn that the
Women's Candidates Tournament (Pool A) starts in Monte-Carlo
(fide.com). In last month's post,
Women's Events 2022-23
(September 2022), I mentioned the event without giving dates.
I created a new page World Chess Championship (Women) : 2022-23 Candidates Tournament (m-w.com) and added it to the index page World Chess Championship for Women (ditto). Shown below is the event's logo.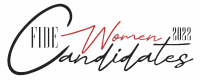 I'll come back to the event after it ends in early November. Pool B, the second of two preliminary events, starts toward the end of November.
While I was researching the event, I noticed that my page on the previous Women's Candidates, 2019 Kazan Candidates Tournament (m-w.com), lacked references to FIDE's site. I added a few important links dating to the time of the tournament.