I had planned to follow up the recent post,
2022-23 Women's Candidates, Kickoff
(October 2022), by updating my page on the
World Chess Championship (Women) : 2022-23 Candidates Tournament
(m-w.com). 'Pool A' ended a few days ago.
Unfortunately, circumstances intervened and I ran out of time. Instead of updating the page, I'll add a summary of Mark Crowther's most recent report.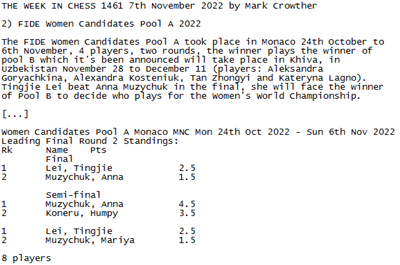 Thanks, Mark. I'll add my own work to my page when 'Pool B' finishes.