My main blog is often the inspiration for posts on this
World Chess Championship
blog. Consider the following two 'On the Cover' posts, where the quotes are from the introduction to the respective issues of the 1998
Chess Life
(CL):-
2023-02-02: February 1973 & 1998 'On the Cover' • '[Cover] photo by Elizabeth Karnazes. And she will be providing next month's cover, as well as a photographic essay of the final match, to accompany a report by Larry Christiansen.'
2023-03-09: March 1973 & 1998 'On the Cover' • 'Elizabeth Karnazes shot the cover photo of Anatoly Karpov just after he successfully defended his FIDE World Championship title in Lausanne, Switzerland.'
The common element is the cover photo by Elizabeth Karnazes. The February 1998 issue of CL promised a pair of articles on the 1998 Karpov - Anand FIDE Title Match, and the March 1998 issue delivered, more or less.
GM Christiansen's one page report was really about the 1997 FIDE Knockout Matches, held in December at Groningen, where he played. Photographer Karnazes two page report was about the final match held in January at Lausanne, which she spectated. The report started with a half page of photos. Two of them are reproduced below along with their original captions.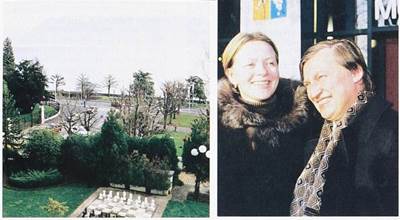 Left: 'A little slice of chess heaven.' (taken from the photographer's Lausanne hotel?) • Right: 'Anatoly Karpov and his wife, Natalie Karpova, as they emerge from the Olympic Museum, just after Karpov defeated Anand.'
The report carried the same title as the photo on the left, 'A Little Slice of Chess Heaven' by Elizabeth Karnazes. It started,
Nestled on the shores of Lake Geneva high in the Swiss Alps lies the charming town of Lausanne, Switzerland. Lausanne is the Olympic Capital, headquarters of the International Olympic Committee and the Federation Internationale des Echecs [FIDE]. It is the site of the Olympic Museum, which hosted the FIDE World Chess Championship Finals under the auspices of the IOC from January 1-9, 1998. Lausanne is also the home of the Beau-Rivage Palace, arguably one of the top ten hotels in the world. Most importantly, Lausanne is where I first experienced a little slice of chess heaven.
The next paragraph set the tone of the entire piece, which was more about the ambience surrounding the event. Asking for directions to Lausanne while in a Parisian McDonald's is roughly equivalent to asking for directions to Lake Champlain while in a New York City McDonald's.
After a grueling ten hour drive over the top of the Swiss Alps from Paris with my usual caravan of luggage and two young sons in tow, I saw a glittering array of lights leading me to my destination. As it turned out, there was a shorter route via a major highway, which would have placed us in Lausanne five hours earlier. Surely the charming employees of McDonald's Paris, who provided me with directions for the journey, were having a great laugh at the silly American woman in the Volkswagen. No matter, the view was spectacular and we were on our way to witness two of the world's greatest chessplayers, Anatoly Karpov and Viswanathan Anand, vie for close to two million dollars in prize money and the right to be called World Champion. (Deeper Blue and Garry Kasparov notwithstanding.)
The 'two young sons' (ten-year-old twins) were also chess players and participated in a junior event held during the match. Their Mom played in a different event for journalists without chess titles. As good a story as it was, I'll try to add a post that focuses more on the chess played in the match.