I summarized last week's post,
2023 Nepomniachtchi - Ding Liren, First Week
(April 2023), writing,
The first two match games ended in a draw and a win for Nepo as Black. Here are the game reports on Fide.com, both signed Milan Dinic [...]
Let's continue with more reports from the same source, worldchampionship.fide.com, and the same writer:-
The last four games this week were all decisive, leaving Nepo with a +3-2=2 lead. As the game seven report implies, Ding Liren had the opportunity to take the lead.
One of the main side stories in the match is the state of Ding's nerves. Will this turn out to be the deciding factor?
***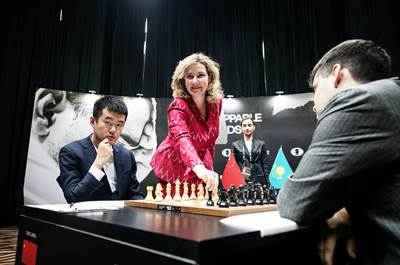 First Move by Dana Reizniece-Ozola; Photo from 'Game 6'
Courtesy of FIDE / Stev Bonhage