It's already been six weeks since I posted
News about 2018 Carlsen - Caruana
, where I quoted a press release,
The much-anticipated match will be held in London from 9th to 28th November.
It's high time to decide whether I want to travel to London to see the match myself. First, what's the schedule? The official site, FIDE World Chess (worldchess.com/london), only informs,
FIDE World Chess Championship Match 2018 starts in
51 days : 10 hours : 35 minutes : 18 seconds
but 'Watch live at the college : get the ticket' leads to World Chess 2018 | Official Ticketmaster UK Site, which displays a useful calendar. Here's a copy in reverse black & white, which is easier to read in this reduced size.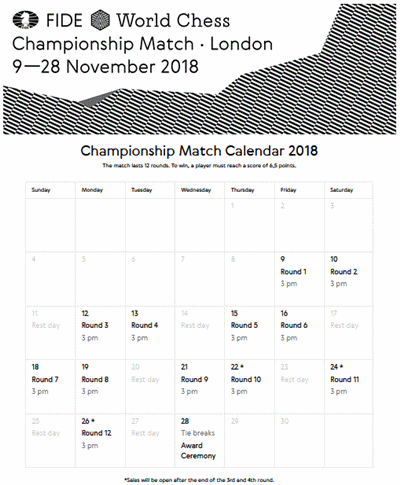 The small print in the bottom line, which applies to rounds 10 through 12, says,
* : Sales will be open after the end of the 3rd and 4th round.
Second, what about tickets? Details for the first game are at Tickets: World Chess Championship - Round 1, London | Fri 9 Nov 2018 @ 3:00 pm:-
Best Available
Price : £600.00
Section : VIP Area
Ouch! The info button says, 'Event Info : General Admission Only', which probably means there are no numbered seats. The rest of the info informs,
VIP Tickets - with the VIP ticket you will get: separate entrance to the venue with VIP reception and separate coat check; comfortable VIP area with seating zones; bar with free drinks; priority entrance to the Players area; possibility to book seats in the first rows during the games and press-conference; memorable souvenirs.

General Admission Tickets - if you are buying this ticket you are getting: access to the Players area, where you can watch the two best world chess players compete for the chess crown; live commentating of the games by chess grandmasters; entertainment area, where you can try to beat your mate in chess; chess cafe where you can buy snacks and drinks; chess shop with chess souvenirs.
How about round 2? A page similar to round 1 informs,
General Admission Tickets : £70.00
VIP Ticket : £500.00
The related 'Find tickets' button informs, 'Tickets not currently available from Ticketmaster', which is the same message I received for round 3. The first available tickets I could find were for round 4 at £45.00 per ticket. Rounds 5 and 6 were also marked 'Tickets not currently available'. Looks like I waited too long to get tickets, but I'm glad to see that the match is so popular. Maybe I'll look at online viewing options in another post.