With the FIDE presidential elections due to take place in three weeks, let's return to the subject of
2018 FIDE Election Tickets
(July 2018). Last month the Association of Chess Professionals (ACP) endorsed one of the three candidates:-
That second link, 'Why', listed seven areas of concern:-
The work of FIDE ['utterly ineffective for quite some time now']
Anti-cheating issues
World Championship Cycle [*]
Women's chess
Helping veterans
Calendar of official events ['dates of the major events are regularly shifted']
FIDE General Assemblies and Terms ['no President should be serving for more than two consecutive terms']
Given that this blog is named the World Chess Championship Blog, the area marked '*' is of particular interest. The ACP board stated,
This is a very troublesome area. To start with, the last title match saw the highest budget for such an event ever but also one of the lowest prize-funds in modern history. That is simply ridiculous. Restoring transparency and respect for the players is a very much needed action. It is not irrelevant to mention that the Grand Prix series suffered a major blow in recent years, mainly due to FIDE's inability to attract corporate sponsors.
FIDE is composed of national federations. Although the federations are political bodies that don't pay much attention to the thoughts of their strongest players, the ACP endorsement is the strongest statement to date by any single chess organization. The FIDE election has also attracted attention outside chess circles.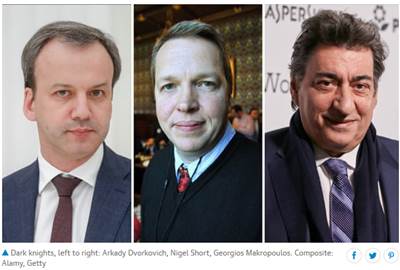 Who will be king? Three-way battle for control rocks international chess
(2 September 2018; theguardian.com)
Of Dvorkovich, the Guardian article said,
The Russian bid sees one of the Kremlin's most capable and modern lieutenants unleashed on a sport that, frankly, seems small fry for him. Dvorkovich was Russian deputy prime minister for six years and chaired Russia's World Cup organising committee, which spent an estimated £10bn on the tournament. By contrast, the Fide's annual budget is just £2.3m.
The article also quoted Chess.com's Peter Doggers, recently seen on this blog in Peter Doggers on Chess Politics (August 2018). His most recent post on the election was FIDE Elections: 'Fake News' And The Call For Transparency, from which we can conclude that GM Short is already the odd man out. For more about the three candidates, see their Wikipedia pages:-
The winner in the election will shape FIDE policy for the next decade and probably longer.