With the
2018 Carlsen - Caruana
title match due to start in two days, the entire chess world turns its attention to London. First, here's a summary of pre-match posts on this blog:-
Add to these a couple of posts from my main blog:-
I expected more in pre-match publicity from FIDE / Agon / Worldchess. I should know better than to expect more, but we can always dream. The most comprehensive writeup to date appeared a couple of days ago from another source -- The Couch Potato's Guide to the 2018 World Chess Championship (uschess.org) by GM Ian Rogers -- and even mentioned my own resources:-
Mark Weeks' long-running World Championship site and blog cover both history and less well known World Championship news.
How long-running has the coverage been on this blog? Here's a summary of wrapup posts for past title events:-
I haven't noticed much Carlsen - Caruana reporting from the non-chess press and hope I get some material for the next post in the Yahoo series. The most interesting report so far is Marky's Malarkey: Betting On the World Chess Championship (actionnetwork.com; 'Marky takes a deep look into the world of chess to find out where the value lies.'). I'm not a gambler and Marky's Malarkey is full of jargon that leaves me baffled: 'prop bet', 'shop for the best line', 'both a Pinnacle and Bovada account', etc. etc.
More in my comfort zone is a countdown series by Chess.com's Mike Klein: The 10 Most Exciting World Chess Championships Ever (started end-October 2018). Here's his list to date.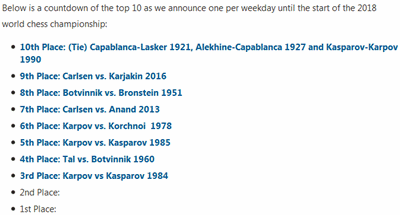 No.1 on the list is a no-brainer, 1972 Fischer - Spassky, but what about no.2? I'll put my money on 1987 Kasparov - Karpov. The match was tied going into the next-but-last game, the 23nd, which Karpov won thanks to a blunder by his opponent. Needing a win to keep his title, Kasparov presented a classic example of how to handle a clutch game. As I wrote on my highlights page for the match, 1987 Kasparov - Karpov : Highlights,
A few moves into the resumption, Karpov played an inaccurate move and resigned on his 64th move. Thus are the greatest world chess championship matches decided -- two months of mental combat turn on a single move. Since the match ended in a 12-12 draw, Kasparov retained the title for another three years.
In 2018, tied title matches are decided by rapid and blitz tiebreak games. That raises the excitement by several more notches.