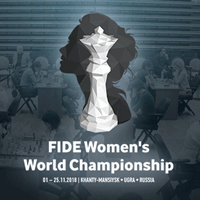 After seven straight weeks of the 2018 Carlsen - Caruana match, culminating in last week's
Wrapup
post, it's time to move on to other subjects. I created a new page for the recent
2018 FIDE Knockout Matches (Women)
and added it to the index page
World Chess Championship for Women
.
A good portion of the time I spent working on the new page was to understand the recent announcement, FIDE on the Women's World Championship Cycle (fide.com; 21 November 2018). It says,
According to the existing regulations, in 2019 there should have been a Women's World Championship match between the current winner of the 2018 Women's World KO Championship and the winner of the FIDE Women`s Grand Prix Series 2017-2018. Unfortunately, the previous FIDE leadership were unable to hold the Grand Prix series thus threatening the 2019 Women`s World Championship match entirely.
I'll come back to that subject when I add the crosstables and PGN to the new page for the 2018 Knockout Matches (Women), which took place in Khanty-Mansiysk.