In last week's post,
Women's 1983-84 Candidates Matches
, I quoted Fide.com:-
[Tatjana] Lematschko took part in the [quarterfinals] of the candidates' matches three times: in 1977 she lost to Akhmilovskaya, in 1980 to Litinskaya and in 1983 was defeated by Alexandria.
Since last week's post fixed an error on one of my pages about the Women's World Chess Championship (WWCC), I was concerned that I had discovered another error:-
For the 1980-81 Candidates Matches, I have a quarterfinal match Litinskaya Shul - Fischdick. I'll look into that another time.
First stop: Wikipedia's Women's World Chess Championship 1981. Since that page gave my site as the only source ('Retrieved 2012-02-06'), I couldn't accept it at face value. Where had my information come from originally?
Last year, in Status of the Women's World Championship (October 2019), I described the process of creating the WWCC pages. Since I never delete digital documents, I still had my working files from that period. My master reference file told me that the source for the 1979-81 women's cycle was Informant. Here's a composite image showing the four women's quarterfinal matches...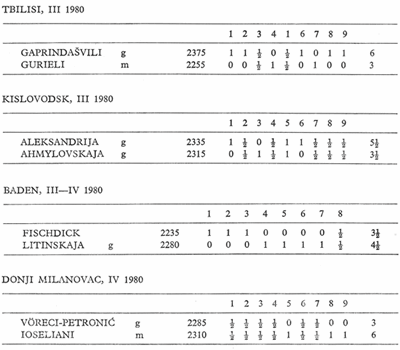 Informant 29 (1980-H1)
...Back to the discrepancy that provoked this post, looks like I had it right and FIDE was wrong. But that's not the end of this episode. Lematchko tied for 1st in the 1979 Alicante Interzonal, but did not play in the 1980-81 Women's Candidates Matches. Why not? I'll look into that another time. At the same time, I'll standardize the spelling of her name across my pages. While preparing this post, I found Lemachko, Lematcho, Lematschko, and there might be others. I can do better than that.