A few days ago on my main blog, as part of a long-running series on 'Top eBay Chess Items by Price', I posted about the
1982 Tbilisi Women's Interzonal
. While comparing the info to my own records, I noticed a discrepancy on my page
World Chess Championship (Women) : 1983-84 Candidates Matches
. In the eBay post I wrote,
The quarterfinal round of the 1983-84 Candidates Matches saw only three matches. Lematchko didn't play and Alexandria started with a semifinal match. That circumstance deserves a mention and an explanation on the 1983-84 CM page.
It turned out that the 'circumstance' was an oversight on my part. Here's an extract from Wikipedia.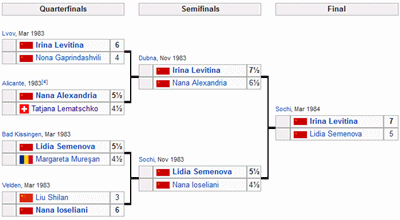 Women's World Chess Championship 1984
Wikipedia gave me credit for the bulk of the information ('Retrieved 2012-02-07'), but attributed info on the quarterfinal match Alexandria - Lematschko to 365chess.com ('Retrieved 2015-01-03'). Since I had already discovered the match PGN on the same site, I looked no further.
By coincidence, Lematchko/Lematschko was in the news recently: Tatjana Lematschko passes away (fide.com; May 2020). Of her WCC exploits, the World Federation noted,
Lematschko entered the race for the world championship title in 1975. Tatjana took part in the Interzonal tournaments in Rosendal (1976), Alicante (1979) where she shared for first with Akhmilovskaya and Bad Kissingen (1982). Lematschko took part in the [quarterfinals] of the candidates' matches three times: in 1977 she lost to Akhmilovskaya, in 1980 to Litinskaya and in 1983 was defeated by Alexandria.
On my page World Chess Championship : Index of Women Players, I have her listed only for the 1977-78 Candidates Matches. For the 1980-81 Candidates Matches, I have a quarterfinal match Litinskaya Shul - Fischdick. I'll look into that another time.