Last week's post
2019-20 WGP Crosstables
listed a number of finishing touches for my page on the
2019-2020 FIDE Women's Grand Prix
. These have all been implemented.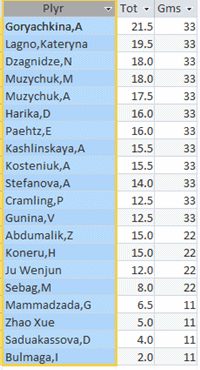 The chart on the left was the working document used to update the World Chess Championship : Index of Women Players. Of the 20 players listed, two were new to the index: Irina Bulmaga and Gunay Mammadzada. Both played in a single event, Gibraltar, but I could find no explanation for their participation.
The chart also shows that four women played 11 games (one event) and four others played 22 games (two events). This was probably due to covid complications, but I'll leave the whys and the wherefores for another time. The FIDE report on the last round of the last event, Gibraltar, Round 11: to Zhansaya, the glory; to Kateryna, the ticket to the Candidates (fide.com), reported,
Kateryna Lagno of Russia drew her game with Mariya Muzychuk of Ukraine to finish on 6.5 and clinch her place in the Candidates' tournament alongside Humpy Koneru, who also qualifies via the Grand Prix series, and Aleksandra Goryachkina of Russia, who qualifies as runner-up in the last Women's World Championship.
Humpy Koneru achieved the goal despite having participated in only two events. For the previous final report on a WGP see 2015-2016 Women's Grand Prix, the Players, (December 2016), including links to older WGP final reports.