Let's return to
The Karjakin Affair
(March 2022), where I wrote,
I added the FIDE announcement about GM Karjakin's ban to my page 2022 Candidates Tournament. Why is this important to the Candidates event, scheduled to start in June?
The answer to that question was because Karjakin had earlier qualified as one of the eight candidates to challenge Magnus Carlsen in the next title match. Earlier this week we learned that the Russian Karjakin had been replaced by the Chinese Ding Liren.
We learned not via a formal announcement on the FIDE site, but via a tweet on the world's largest chat room. Even then, Karjakin's replacement wasn't identified by name in the tweet, but by a photo with an embedded caption.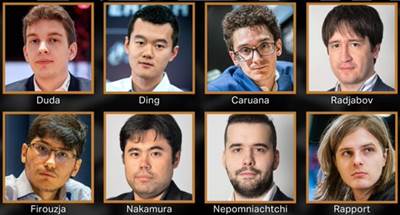 Mark your calendars! We are a month away from the start of the #FIDECandidates in Madrid, Spain... (twitter.com; 16 May 2022)
I hope we get a FIDE announcement so that I can add it to my page on the 2022 Candidates Tournament (m-w.com), due to start at Madrid in less than a month. I also hope they replace Karjakin's photo, which is still on what appears to be the official site for the tournament, FIDE World Championship. Cycle 2021-2023 (wcc.fide.com). I looked at that subdomain in my previous post on the cycle, 2022 Candidates; 2023(?) Title Match (May 2022), and nothing has changed since then.
So how did Ding Liren qualify for the second most important event in chess? He qualified by rating. The nitty-gritty was explained in two reports by Chess.com's Peter Doggers:-
As the comments to that second report testify, many chess fans aren't happy with the rating method of qualification, but rules are rules. Better to fix anomalies by updating the rules for the next time than to make stuff up as you go along.
For the nittier-grittier on the rating, see Ding, Liren CHN Individual Calculations Chess Ratings FIDE, period=2022-05-01 (ratings.fide.com). He gained 7.2 rating points for the period.