Last week, in
Madrid Candidates - Second Week
(June 2022), we left the tournament with GM Nepomniachtchi in first place, a point ahead of GM Caruana. I speculated,
With five rounds left to play it seems even more unlikely that anyone except Nepomniachtchi or Caruana will win the event.
The Russian finished +1-0=4 in the last five games, while the American collapsed with +0-3=2, giving him four losses in the second half of the tournament. The final tally in the following image tells the complete story.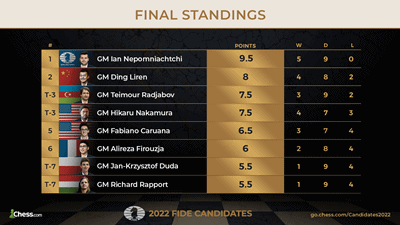 Ding Beats Nakamura To Finish 2nd Behind Nepomniachtchi; Radjabov Claims 3rd Place
(chess.com)
The battle for second place was less straightforward, especially since World Champion Carlsen had teased that he might hang up his crown before the next title match is held. That last round game 'Ding [Liren] Beats Nakamura' left the Chinese player a half point ahead of his main rival for runner-up status and a possible title match.
And thus the 2022 Candidates Tournament, Madrid (m-w.com) goes into the official record. The next move is GM Carlsen's. He convincingly beat the same challenger +4-0=7 in last year's title match, 2021 Carlsen - Nepomniachtchi, Dubai (m-w.com). Anyone expecting a carbon copy of that match is advised not to place large bets.
Nepomniachtchi clinched first place during the next-to-last round. Here is the winner's interview with Dina Belenkaya.

Nepo's Instant Reaction To Winning Candidates (5:25) • '[Published on] Jul 4, 2022'
The applause and Nepo's reaction to it are worthy of a champion. Players who won candidates tournaments always became superstars. Players who won two -- Smyslov, Spassky, Karpov, Anand -- always became World Champions.
***
Later: Re 'Players who won two [Candidate cycles] always became World Champions', wrong! A few weeks after this post, a Chessbase article, Nepo joins the elite Two Plus Club (chessbase.com; Albert Silver), pointed out that Korchnoi won two cycles, but lost the title match both times to Karpov.