Following last week's post
Madrid Candidates - Third Week
(July 2022), I added the final crosstable to my page
2022 Candidates Tournament; Madrid
(m-w.com). There is still more to be done for that page.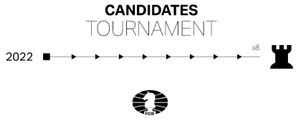 One thing I can't do is explain the event's logo, shown on the left. It's a reverse (black on white) copy of the official logo (white on black) seen on many FIDE pages. The logo shows eight right-pointing arrows aimed at a Rook. To the left of the Rook is a small text that says 'a8'. What does it all mean?
There are still a few more actions concerning the event to be accomplished:-
Add the PGN to the m-w.com page.
Calculate the cumulative scores and add them to the same page. These scores were compared for the previous five events in Madrid Candidates - First Week (June 2022).
Update FIDE links on that page.
Update the Index of Players (m-w.com).
The crosstable can also be improved:-
Can I accomplish all of that for a single new post? Somehow I doubt it; maybe two posts.