The previous post,
2023 Nepomniachtchi - Ding Liren, Fourth Week
(May 2023), used a photo. And it wasn't just any photo; it was a photo from the official site for the Nepo - Ding match:
Photos from 2023 FIDE World Championship Match
(worldchampionship.fide.com). That FIDE page offers reuse of the photos, but with a condition:-
Please note that these photographs are provided to the media as a courtesy from FIDE, strictly for editorial use only. when used, these photos must include proper credits in the caption, using the following formula:

"Photo: FIDE / Name of the photographer"
or
"Courtesy of FIDE / Name of the photographer"

In case of doubt regarding the authorship, please contact a FIDE representative at press@fide.com
I'm pleased to oblige. I'm not sure if this post qualifies as 'editorial use', but I'll take a chance that it does.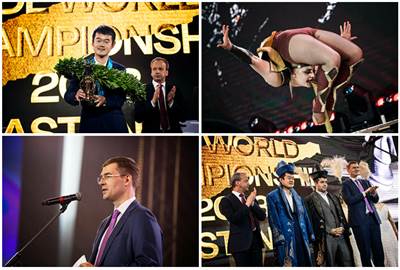 Photos from 'Closing Ceremony'
Courtesy of FIDE / Stev Bonhage
At the beginning of last year, I posted on my main blog, Chess Photos : 'All rights reserved' (January 2022). The post ended saying,
I imagine that all of the photos in these albums are marked '© All rights reserved'. That's why they never appear on my short lists. Would it hurt any of the expert photographers who took the photos to license a few under 'Creative Commons'? That would allow other content creators (like me) to share the photos with a larger public.
My prayers have been answered. I'm a happy blogger.