On my main blog I've been exploring early chess magazines. Here's a summary of the three periodicals I've looked at to date:-
The year in brackets ('[]') is the year of the periodical's first publication. That is followed by the name(s) of someone who played a role both in the early years of the periodical and in the early events now considered to have been forerunners ('Unofficial events') of the World Championship. The next image shows a snapshot of a portion from my World Championship site.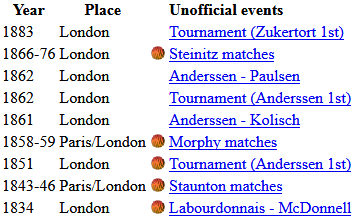 World Chess Championship : Pre-FIDE Events
Labourdonnais, Staunton, and Anderssen are all accounted for. St.Amant played two matches against Staunton. The early chess magazines have been locked away in specialist libraries for many years. Assuming that they have not been picked over completely, what more information about the early unofficial events can be gleaned from their pages?